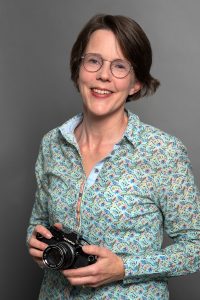 Thank you for visiting my photography website!
Photography is for me a way of looking at the world and seeing things from a different perspective. It allows me to stay still for a while and to enjoy the wonders of nature. Photography teaches me to see and to focus. It invites me to take a closer look at the details, which are so easily overlooked. Through photography, I become grateful for the little treasures natures keeps for us and which we must absolutely preserve.
I feel especially attracted to colours and shapes. It's the colours of autumn that make me happy and give me energy. It is the variety and changeability of colours of flowers that intrigue me and make me marvel at what nature is capable of. It's the shapes of trees and flowers that attract me and stimulate my imagination. I am captivated by tree barks because they reveal intriguing abstract motives. I have especially grown fond of tulips as their graceful "poses" remind me of ballet dancers. It's the forms, patterns, shadows, light, contrasts and their interaction that make me want to catch flowers or other plants. I see them as little works of art that nature presents us.
However, the beauty of nature, especially flowers, for me doesn't lie simply in sweet, lovely and delicate blossoms but also in the fallen and withered petals and leaves. Even when the plants are dried out, they are still preserving their beauty. Their creases, emerging veins and fading colours show remarkable patterns and structures. They show us that life is constantly changing and nothing stays as it is. Nevertheless, we can capture these wonderful fleeting moments, each of them showing us its own beauty. When they are covered with frost or snow, they show extra magnificence, strength and sturdiness. They look fragile but are still strong enough to defy harsh and cold weather.
I get my inspiration from books (history, art, philosophy, and biographies), nature, art, other photographers, and especially from my grandfather who always carried a camera with him, and who photographed all his life. He helped me choose my very first (film) camera and I feel proud to own one of his cameras.
Even if I have been photographing for more than ten years now, photography remains a learning process. I very much hope you enjoy the images on my website and I would like to invite you to look for hidden treasures yourself. Should you have any comments or tips, please feel free to send an e-mail.